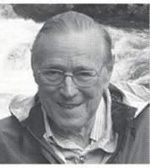 Allen Hoisington Barton of Chapel Hill, NC, died on December 18, 2017, at age 93.  Allen was Professor of Sociology at Columbia University and served as Director of the Bureau of Applied Social Research (BASR) in New York City, NY. He was a tireless advocate for the value of public opinion survey data for understanding important political and social issues.He is survived by his wife, Judith Schneider Barton (married Paris, France, March 11, 1949), his children (and spouses) Stephen (Barbara) in El Cerrito, CA; Hugh (David) in Mystic, CT; Matthew (Maya) in Chapel Hill, NC, and Julia in Bethel, CT. He is also survived by two grandchildren, Sunjay (Susannah) in New York, NY and Pravin in Somerville, MA and by his brother, David K. Barton, and sister, Maida B. Follini and many nephews, nieces, and cousins.
Following graduation from Harvard University (1947) and service in the army in World War II (1943-46), he studied sociology at Columbia under Paul Lazarsfeld and Robert Merton, obtaining a PhD in 1957. Starting as a research assistant at the BASR in 1947, he worked on a wide range of projects, becoming Director of the BASR (1962-77) and a professor in the Department of Sociology (1958-1990).
Following his retirement he enjoyed privileges as adjunct Professor and Scholar with the Sociology Department at the University of Florida, Gainesville, FL and University of North Carolina at Chapel Hill. He spent a year (1948-49) at the newly created Institute for Social Research at the University of Oslo working on a survey of voting and interviewing government economic planners.
During three years at University of Chicago he worked on the law school's jury study (1954-57). Major projects at Columbia included studying methods of teaching reading in the US public schools, reviewing disaster studies, surveys of elites in Yugoslavia and the U.S., and a study of citizen-government relations in NYC neighborhoods.
He received the Robert M. Worcester Prize for best article published in the International Journal of Public Opinion Research in 1995. Allen received the International Research Committee on Disasters 2002 E.L.Quarantelli Award for contributions to disaster theory. These were published in his book, "Communities in disaster: A sociological analysis of collective stress situations" (1969), which was translated into numerous languages and widely cited.
His immediate family requests that family, friends, and colleagues across the globe take time to remember Allen and share those remembrances with others around them.
The post Remembering Allen H. Barton appeared first on World Association for Public Opinion Research.